Punjabi singer Parmish Verma sustained injuries after he was shot by unidentified assailants on Friday night at his home in Mohali. Police officials said they had rushed to the 'Gaal Ni Kadni' singer's home after they received a phone call from the singer asking for help. In a statement, a top Mohali police official said that the assailants had arrived in a white Toyota vehicle. The police official said that they were reviewing CCTV footage obtained from the spot as part of the investigation into the incident.
Mr Verma returned home accompanied by a friend and a bodyguard from an event at Chandigarh's Elante mall. The singer sent his bodyguard home, which is when he was shot in the leg by the assailants. Mr Verma's friend was injured from the shooting as well.
The singer was rushed to Fortis Hospital in Mohali soon after, where he is currently undergoing treatment. Hospital authorities said that the singer is out of danger.
parmish verma dilpreet singh dhahan
Gangster Dilpreet Singh Dhahan uploaded these two images on his Facebook post in which he claimed responsibility for the shooting
The incident took place at around 12.30 am, according to a police official.
At around 4 am the same day, Dilpreet Singh Dhahan, a local gangster, took to social media to claim responsibility for the shooting.
In a Facebook post, the gangster said that Mr Verma was "tried his best to escape, but eventually suffered." The gangster said in the post that he had "warned" the singer, saying that their "face to face" meeting had cost him.
In the post, the gangster also said that the singer had a choice of whether he wanted to "listen to others".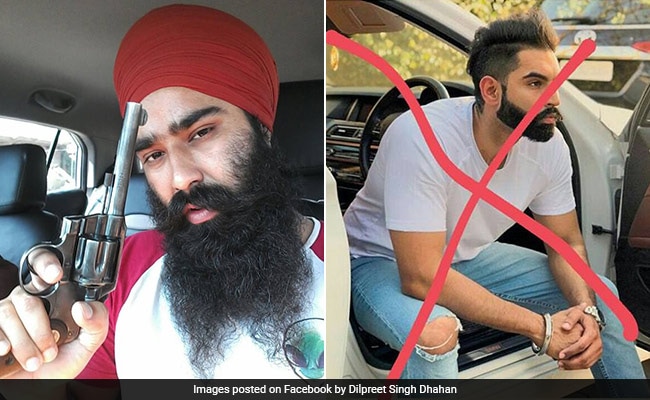 Gangster Dilpreet Singh Dhahan said Punjabi singer Parmish Verma was "lucky to be alive"
In the post, the gangster said that Mr Verma was "lucky to be alive".
The gangster shared two images in the Facebook status, with one image showing the gangster posing with a pistol and the other of thesinger, marked with a red cross in a sign that the gangster had 'eliminated' his target.
The post was shared on Facebook more than 2,000 times and received over 5,000 likes.
The gangster's motive to claim responsibility for the shooting was unclear.
After the gangster's Facebook status emerged, police officials have said they would investigate the incident from this angle as well.
COMMENTSA First Information Report or FIR has also been registered against unknown individuals.